Boost Your Small Business Productivity with Google Workspace

Last Updated on March 27, 2023
Small businesses face unique challenges when it comes to productivity and organization. Google's productivity apps offer a comprehensive suite of tools designed to meet these needs, streamline operations, and drive success. This guide covers all the essential features and best practices for using Google Workspace to enhance your small business.
Customized Gmail for Your Business
Gmail is a powerful email service that becomes even more valuable when customized for small businesses. Key features include:
Custom domain email addresses (e.g., 

you@yourbusiness.com

)

30 GB storage per user

Google Calendar integration

Robust security features, like two-factor authentication
Take advantage of Gmail's AI-powered 'Smart Compose' to draft emails quickly and receive 'Nudge' reminders for important follow-ups. In addition, the 'Priority Inbox' ensures you never miss critical messages by organizing emails based on importance.

Maximize Efficiency with Google Calendar
Google Calendar goes beyond basic scheduling, offering features to help manage team availability and streamline meetings:
Shared calendars for team coordination

Meeting reminders to prevent missed appointments

Event-specific document attachments

Customer appointment scheduling with embedded event calendars
Create 'Out of Office' events that automatically decline meeting invitations during specified times, promoting work-life balance and team awareness. Quickly create events from email invitations with Gmail integration.
Streamline Teamwork with Google Drive
Google Drive provides cloud storage and powerful productivity apps for your small business:
Docs (word processor)

Slides (presentation software)

Sheets (spreadsheet editor)

Forms (survey and questionnaire tool)
Take advantage of advanced sharing options, controlling document access to protect privacy and security while improving business efficiency. Use 'Team Drives' to create shared spaces, ensuring everyone can access up-to-date files.
Enhance Communication with Google Meet
Google Meet is a feature-rich video conferencing tool perfect for small businesses:
One-click scheduling and joining of meetings

High-definition video calls with up to 250 participants

Screen sharing for presentations and demonstrations

Meeting recording and saving to Google Drive

Live captions for improved accessibility
Google Meet integrates seamlessly with other Google Workspace apps, allowing you to attach relevant documents and schedule meetings directly from Google Calendar. Utilize 'Breakout Rooms' to facilitate focused discussions during brainstorming sessions or workshops.
Stay Connected with Google Chat
Google Chat is a messaging platform that fosters real-time communication:
Direct messages and group conversations

Chat rooms for team discussions and project updates

Integration with Google Workspace apps like Drive and Calendar

File sharing and document collaboration

Customizable notification settings
Create and assign tasks within Google Chat conversations for easy progress tracking and collaboration. Use bots and third-party app integrations to simplify workflows and access important information without leaving the platform.
Understanding Pricing
Google Workspace pricing begins at $6 per user per month for the Business Starter plan, which includes 30 GB of storage per user. For increased storage, the Business Standard plan provides 2 TB per user at $12 per user per month.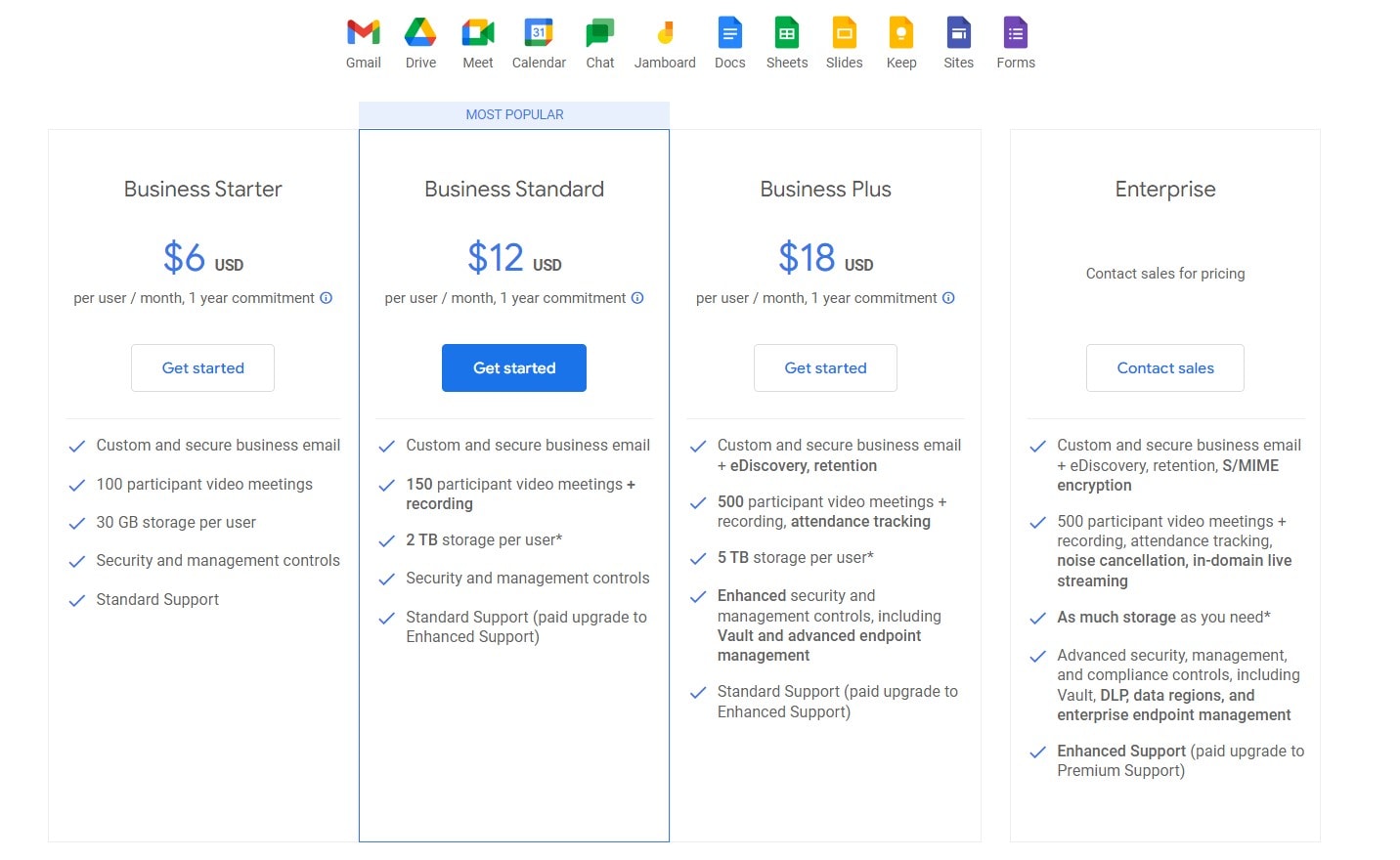 Pros and Cons of Google Workspace for Small Businesses
Before committing, weighing the pros and cons is essential to determine if it's the right fit for your small business. Here's a summary of the advantages and disadvantages:
Pros
Cross-platform compatibility

: Its office tools work seamlessly on any browser, ensuring a consistent device experience.

Collaboration and revision tracking

: Fine-tuned share features and revision tracking make it easy for teams to work together and track changes.

Corporate-friendly user management

: Manage user accounts, access, and security settings efficiently within the platform.

Cloud-based storage

 is tightly integrated with Google Drive, providing cloud storage and file sharing for easy access and teamwork.

Focus on teamwork

: It is designed to facilitate cooperation and make it simple for team members to work together and share files.

Ideal for small-to-medium businesses

: Google Workspace offers a suite of tools tailored for businesses that require accessible teamwork and file-sharing solutions.
Cons
Limited offline capabilities

: As an online-only suite of apps, it is less powerful than some desktop alternatives, and offline editing requires using Chrome and advanced planning.

Switching between accounts

: Some users have reported difficulty switching between multiple Workspace accounts.

Google Meet vs. Zoom

: Google Meet may be considered less user-friendly and have a lower picture resolution than Zoom, according to some users.

Customer service concerns

: Some users have reported customer service and support issues.
By carefully considering the pros and cons, you can decide whether it's the best solution for your small business's needs.
Get in Touch
If you have questions or need assistance implementing Google Workspace for your small business, don't hesitate to get in touch with us. Our team of IT experts is here to help you maximize the potential of these powerful tools and boost your business's productivity.
In conclusion, Google offers an all-inclusive set of tools to improve small businesses' productivity, collaboration, and organization. By effectively utilizing these tools, you can streamline your operations, enhance communication, and propel your business forward.
https://ifeeltech.com/wp-content/uploads/2014/12/google-workspace-apps-and-pricing.jpeg
600
1200
Nandor Katai
https://ifeeltech.com/wp-content/uploads/2021/10/iFeeltech-IT-Services-SVG-Logo-Enfold.svg
Nandor Katai
2014-12-10 18:19:24
2023-03-27 10:14:59
Boost Your Small Business Productivity with Google Workspace