Small Business Server Room: How To Establish One In Six Simple Steps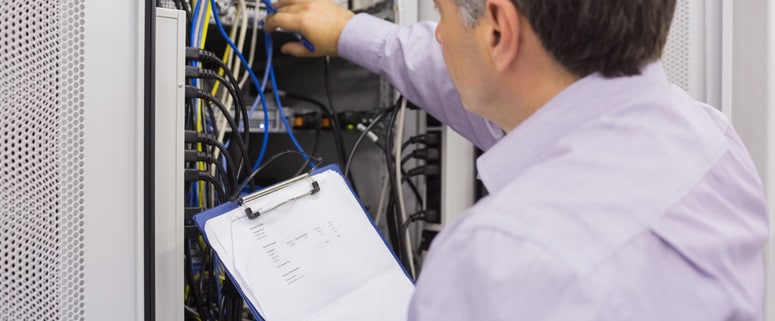 The recent Snowden leeks about the National Security Agency (NSA) where we had learned of widespread spying and the weakening of encryption implementations has shown that data or information stored online or still in transit are more vulnerable to attacks.
This vital revelation has forced some firms involved in the business of data storage, privacy and secrecy online to rethink their systems and methods for protecting data from state-sponsored groups and hackers.
You can reduce these types of data security issues or even avoid them completely by staying away from online data storage service providers and bring your IT solutions in-house. However, you can only do this successfully by investing on dedicated in-house IT equipments. The budget required to set up this kind of in-house IT infrastructures are usually beyond the financial capacity of most small business owners. Moreover, the resources required to design these types of solutions are often enterprise or medium-sized installations which might not augur well if you intend to set up a small server room or closet for a branch office.
However, setting up your server room is not rocket science because when you understand the basics, you'll definitely find it much easier to set up one.  Here are six simple steps to help you get started.
Make That Wise Decision To Go For IT Equipments That Can Be Mounted on Racks
Many small businesses often start off their IT in-house departments investing in network equipments and server hardware appliances that can be stacked either on a shelf or desk. Though this is a cheaper route to go, there are several disadvantages as these equipments can later become a huge mess that you might probably be unable to handle as your business grows. These equipments become exposed thus leading to physical tampering and also open to accidental damages like coffee spills, environmental dusts and even workplace hazards with your staff when they carelessly trip over the exposed wires.
However, with rack-mount equipments you avoid these types of accidents because these racks have been professionally designed to actually house this type of hardware easily. Though, they seem very expensive compared to non-rack mount equivalents, the ease with which you can easily manage your equipments with   them amongst other benefits far outweighs their cost price.
On a final note, these days some shelves and drawers have been designed to help mount the server racks and they allow these racks work even without the non-rack mount appliances.
Understand The Fact That There Are Server Racks For All Seasons
You need to study and understand the basic characteristics of a server rack before buying or installing one. Server racks are usually measured in terms of rack units often expressed as "U" or "RU". A rack unit is equivalent to 1.75 inches (44.5mm) in height and the compliant equipment is measured in multiples of "U". Generally, servers have a range from 1U to 4U, network switches are between 1U to 2U while some blade servers are between 5U to 10U or  even more.
You need to also consider the width and height (depth) of the server racks before settling for one. The generally accepted width is 19 inches and between 600-1, 000mm for the depth. However, many of these racks often have adjustable rear brackets even though most rack mount servers often include an adjustable mounting kit which can be used once they have enough depth to house the server.
The four-post rack is one of the most popular commodity server racks you will find on the market today and it has been designed to hold appliances and servers up to 19 inches wide.
A normal rack has a height of about 42U and half of that will be 24U though there are several other types of desktop a racks with heights ranging from 5U to 20U. These are not the measurements for the external dimensions of these racks as that feature is highly dependent on the designs of the racks and it varies. Some racks come with caster wheels which help in easing the movements.
Open frame racks and small wall-mounted cabinets are excellent alternatives for housing IT servers in locations where spaces are limited. However, you need to realize that if you decide to use open frame racks, there are special requirements you must fulfill to mount the servers which include fixing the racks to the floor. Wall-mounted cabinets are not suitable for any loads that are made up of a few servers or heavier than network switches.
Always Separate Your Servers If  You Would Like To Reduce Noise
You'll have to consider the noise that comes with in-house server equipments if you don't have a separate room that has been dedicated to store and house your equipments. You'll need a partitioned room even if it's a small area because it's worth the money on a long run.
These noises which can reduce and affect the overall productivity of your staff would have been eliminated or dampened when you create a partition. The partition also prevents any unauthorized persons from tampering with your equipments, helps in protecting them from damages and prevents them from being stolen.
If you run a small business and have no other alternative to placing your racks within your IT Department or a corner of your working space, then you would have to buy sound proof racks. These racks are often measured by their noise reducing properties and not the air vents which makes it impossible for them to be completely soundproof. The noise they generate and their overall sound reducing capacities often combine to determine how well they work.
Want To Beat The Heat? Get An Appropriate Air-conditioning Unit
The heats generated from IT equipments and servers are usually very high and they can  shorten the lifespan of the equipment. They can also result in outages and crashes that could be very difficult to explain which is why it's highly critical that you install a cooling unit when you're building an in-house server room.
However, if all you need is a couple of network switches, five-bay Network  Attached Storage (NAS) System or servers, you might not need to worry about a  cooling system unless you're pulling in a bigger NAS, several servers  and a medium UPS which often pumps up the heat.
The heat capacity of your server racks is also directly affected by the outside temperature. This is why it's highly recommended that you install air conditioning units in a server room.
These air conditioners need to be on at all times for as long as the servers are switched on and heat is being generated. It's highly advisable that you install separate stand alone units with different circuit breakers so that they can be alternated regularly when the need for servicing anyone of them arises.
Learn To Handle Your Cables Properly
Proper ventilation can only be ensured with the right cable management. This is why it's a really bad idea to try to force 42 1U severs into a full-height rack because it will lead to serious cabling restrictions or limitations. The chassis of many older servers often require between 1U to 2U space between each other to ensure the right airflow. These days, most of the modern rack-mount servers do not require these kinds of spaces.
Setting up a server room full of racks entails more than the working on some screws to help fix these equipments into place.  You need to learn how to manage the cables coming out from all the equipments lined up within these racks and their corresponding Ethernet cables. Apart from the intra-cabinet wirings, the cables for the Ethernet LAN points for the IP cameras, Desktop computers and all other network appliances needs to be properly managed or  terminated.
The best way you can handle all this is to use a RJ45 patch panel to terminate the Ethernet cable runs. A normal patch panel installed in 1U of space often offers up to 24 ports and often requires some form of manual inputs like stripping the cable, fixing it into the patch panel and using a wire testing tool to verify its connectivity. You can get a networking professional or expert to handle all these for you in a day depending on your budget.
In addition to the patch panels, you'll need to have a cable tie because they come in handy when you try to secure the stray cables. You can get standard cable ties which can be reused and they quite cheap when you buy them in bulk.
Label Everything And Keep It Simple
It's  important that you label and document the processes you employed while setting up your servers for easy deployment so that any new hand, employee or vendor can understand your system whenever they're required to work on your server room.
This helps reducing the time they must have wasted dealing with the issues that arise in your absence without such information and also prevents the likely occurrence of any catastrophic mistake that might include restarting or unplugging the system without any form of warning.
One of the easiest and best ways to rightly label your infrastructures is the use of a label printer. This printer could be purchased from any hardware shop. You'll have to label network and server appliances with unique names that properly describe them or their IP addresses. You should also do the same for other IT equipments like the keyboards, mouse and video switches, routers, NAS appliances, redundant hardware and backup devices for data.
These notes should be printed out and properly detailed to easily explain the vital procedures involved as related to your in-house hardware. These print-outs should be attached to refrigerator magnets or the cabinets of your servers. For the best results, they should include  operating instructions relating to data backups, networking, starting up or shutting down of these equipments in case there's a power outage.
I hope these steps will help you setup your new server room, if you have any questions please contact us or call 305-741-4601 to setup a free consultation.
https://ifeeltech.com/wp-content/uploads/2014/01/server-room.jpg
517
775
Nandor Katai
https://ifeeltech.com/wp-content/uploads/2021/10/iFeeltech-IT-Services-SVG-Logo-Enfold.svg
Nandor Katai
2014-01-17 01:53:49
2015-02-13 03:19:25
Small Business Server Room: How To Establish One In Six Simple Steps