The Small Business IT Cheat Sheet (for 2015 and beyond)

Last Updated on May 1, 2018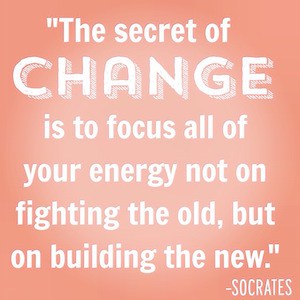 In this day and age, your small business performance can only be as good as the tech that you house.
Running a small business, you already know that things happen just as fast as, if not faster than, in the world of a big enterprise. If you want your business to run briskly in 2015 and beyond, you will need technology that will keep up.
If you are looking to update your equipment and tools to give your small business a significant return on your IT investment, all you need to do is follow this Small Business IT Cheat Sheet.
Of course, for the lean startup business, making the right choices can be challenging. Limited manpower, time, and budgets can all factor in making smart decisions. With a solid team and the right approach however, you can send your business well on its way to success.
This Small Business IT Cheat Sheet, and the discussions that follow, is an in-depth itinerary of top trends and tools that you, as a small business owner, should consider taking aboard in view of your vision & the resources at your disposal.

The Need for Internet Speed.
It is astonishing that some business owners would hold back on Internet connectivity in spite of their almost complete reliance on it to operate. Without a sufficient internet connection, important business communications would suffer, client chats and live conferences would stall, and Web-based cloud applications would become sluggish or unavailable to users.
With this in mind, upgrading one's Internet speed will positively accelerate file downloads and business processes. And even better, put your name down for a second Internet connection with another ISP to balance the load. Not only will this get things moving faster, but it also serves as a safety net in case one of your internet connections should fail.
Types of Internet Services
Luckily there are much more advanced Internet technologies than there were ten years ago. As a business owner, you might find yourself confused by the many options and packages currently available.
No two types of Internet Service are the same, nor are all of them available in every region across all countries. So, it is important to get familiar with them, and also to catalog which types are available to you before you make a choice. The different types of internet are:
| Types of Broadband | CABLE | DSL/T1 | FIBER | SATTELITE | WIRELESS |
| --- | --- | --- | --- | --- | --- |
| Speed | Up to 150 Mbs and beyond depending your local provider | Up to 3 Mbs | 50 Mbs to 1 Gbs | 3 Mbs to 15 Mbs | Up to 40 Mbs |
| Delivery | Internet provided by local cable company via coax and fiber cable. | Internet provided by local phone company via telephone cable. | Internet access via beam of light trough fiber optic tubes. | Your internet signal bouncing of satellites. | Internet service delivered via radio signals from an antenna tower. |
| Usage | This is the most viable option for most small businesses. | Robust and Reliable, but with speed limitation. | Requires special installation, but has obvious benefits to the more demanding business. | Often used on remote, rural areas where cable is not available. | Good alternative to cable, but its often interfered by the environment. |
| Pricing | 50$ and Up | 30$ and Up | 50$ and Up | 50$ and Up | 40$ and Up |
Topping The Battle For Bandwidth
Playing it tight might not be in your best interests when it comes to choosing a bandwidth speed offering with an internet service provider. Especially on a shared network, it is not just about what you can squeak by on a daily basis. Your connectivity needs to be geared up for the charge of activity, or the number of users and devices using your Internet connection at the same time. You need a sufficient bandwidth speed tier to keep up with your network.
Bandwidth requirements depend on your current IT setup and your business processes. E-mail alone for example consumes very little bandwidth. However, cloud services, virtual desktops, and online backup, on the other hand, could use up your available bandwidth pretty quick. So it is important to weigh your needs before you choose your internet package.
Following is a scalable recommendation for wired or wireless networks alike: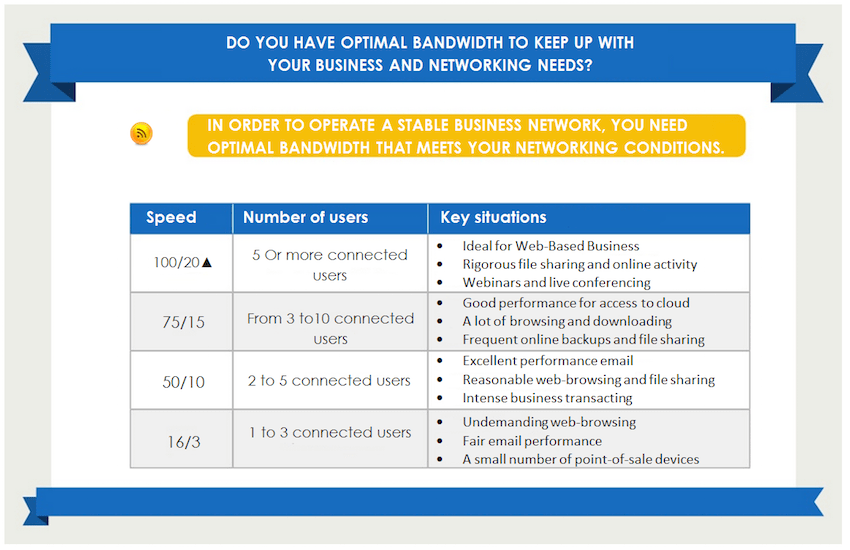 Upgrade your Wi-Fi.
You might still be operating on an 802.11b or 802.11g Wi-Fi connection around the office. Now may be as good a time as ever to upgrade to at least 802.11n. However, 802.11ac (Gigabit Wifi) is gaining popularity as more and more devices support the new standard. Either way you will immediately notice a step up in experience; it also paves the way for more wireless devices to get connected with better performance and faster data transfers.
Get ready for IPv6.
The internet is growing, and there are looming changes for the very near future. One of those changes is IPv6; that is: Internet Protocol Version 6.
Version six will in good time replace the current protocol, IPv4. One outstanding benefit of IPv6 is that it provides a virtually unlimited and an extended number of IP addresses.
Why should this matter to you? For business, IPv6 translates into less complication when configuring and maintaining your network, which leads to reduced costs and potentially better outcomes.
Most network equipment released in the last couple of years have IPv6 support built in already, so when the time comes to switch to the much-improved Internet protocol, the transition should be seamless.

Wireless Networking (WiFi)
WiFi access has turned out to be more than just a modern-day nicety, although there are some business owners that are still reluctant to commit to the expense of high-speed WiFi (which can often be on the pricey side). On the other hand, many small businesses leverage WiFi as a competitive advantage.
Housing business grade WiFi does, in fact, make a striking difference in employee productivity, profitability, and team efficiency. Also, it can play a role in encouraging customer satisfaction as well.
Let's face it; in this day and age, business relies heavily on the web. A great deal of bandwidth use can bog down your company's internet connectivity: which means lost time, frustration, and a fall behind.
Better and faster business WiFi goes a far way with these intermissions in business, ensures that all employees stay productive and that processes are running smoothly.
Having the speediest connectivity available is especially necessary for a company that is web-based, such as virtual consulting or online stores. In the case of online business, performance can only be as good as your internet connection.
Losing connectivity in any case could result in revenue cut off from your business' bottom line.
Benefits of Business-Grade WiFi
1) Connect faster to your Cloud.
In another part of this Small Business IT Cheat Sheet, we will make mention of some indispensable Cloud-based productivity tools for business.
However, to make use of these technologies, your business will need fast wireless internet to keep up with the specs of cloud-based applications.
2) Employee Satisfaction
Giving your employees WiFi access means that your team members do not need to be tied to their desks. A license to WiFi enables them to fulfill their tasks from virtually anywhere under the pulse of your WiFi on their mobile devices or laptops.
This kind of flexibility might sound trivial, but many companies have used this wireless "work anywhere" model to generate a major shift in workplace culture, creating employees in high spirits and better returns.
3) Customer Satisfaction
From coffee shops to doctors' offices, consumers are all the more expecting WiFi access to be offered wherever they go, free and fast.
Of course it is relative from business to business, but free and fast WiFi on premise equals happier shoppers.
At restaurants, coffee shops and bars, for instance, patrons are more likely to stick around and order a few more beverages if there is free WiFi.
In the hospitality trade, free WiFi has become so anticipated by lodgers that failure to make it available may cost you bookings.
Could your business, clienteles, or your employees derive benefit from WiFi access? Perhaps you need to stretch your company's competitive edge by taking WiFi on board.
Private vs. Public or Both?
WiFi technology makes it possible for you to set up either a secure private access point for your employees or one that is accessible to guests and customers as well; you can also have both at once.
A private network allocation is open to employees; simultaneously having a public network distribution does not compromise your security or confidentiality. This two-way set-up makes your WiFi facility available to your customers, while keeping your business information out of their reach.
Wireless Hardware Selection
For most small businesses, a consumer-level wireless router will do just fine. Pcmag.com has a great networking section that is always up to date. There you can quickly find a suitable unit for your needs.
If you have many users or have to cover a larger area, you may have to look for enterprise grade wireless equipment, which can be a little more expensive. I recommend looking into Cisco Aironet or UniFi access points.
It pays to invest in business WiFi, by smoothing out your business' productivity and improving the agility of your business.

Cloud Computing
Traditionally, businesses of all industries and sizes needed to house on-premise hardware, licensed software and an IT support staff for processing data and the upkeep of systems.
Today companies like Microsoft, Google, and others make awesome computing capacity and space available online (in the Cloud).
This dramatically shrinks the need for businesses to shell out IT expenses, and the cloud allows data to live in a secure highly accessible online environment. The cost benefit to companies using Software as a service, is significant. (See the Small Business IT Cheat Sheet Info graphic for a list of more outstanding benefits.)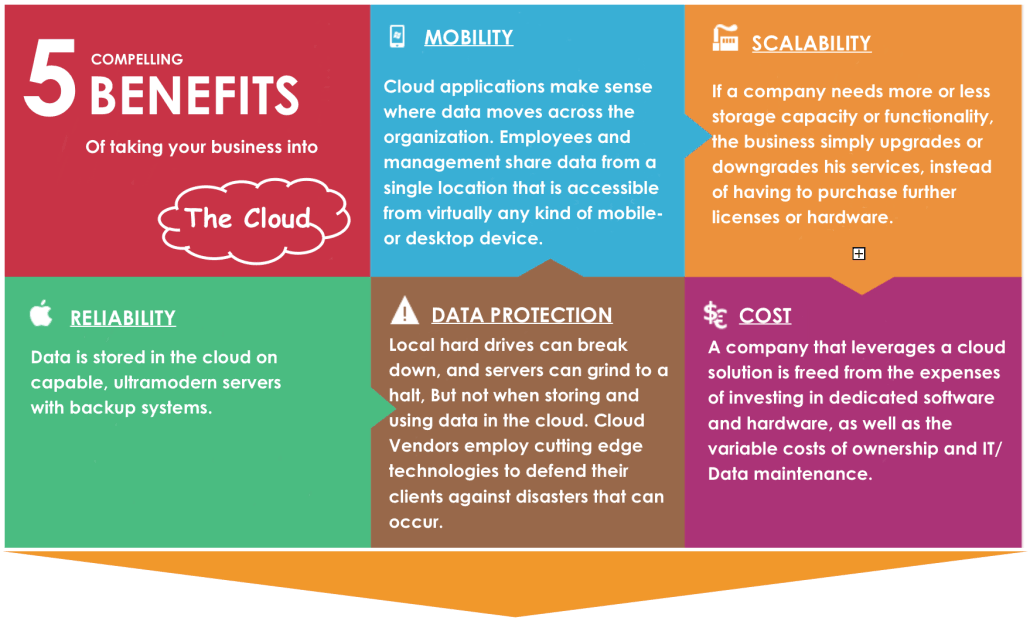 Cloud software solutions deliver capabilities and dynamic applications to meet the changing needs of all sizes of businesses and, in many respects, better security. Naturally, you would want to thoroughly assess the safety risks of storing your critical business data in the public cloud first – before making the leap.
Assuming a decision to go ahead, cloud data applications such as Google Works, and Microsoft Office 365 are well worth a look.

Microsoft Office 365
Today we see how big companies like Google and Microsoft are offering state-of-the-art services and applications online while changing the way businesses work with their data and technology. However, as Gene Marks so sharply noted in his Forbes.com article: "Microsoft Will Win The Small Business Cloud War…;" this is proving to be true with Microsoft's deployment of their key Office applications to the cloud.
Microsoft's Office 365 has brought all the usefulness of the Office bundle of tools to the cloud. Now you can synchronize all data on any computer, and mobile device; all your data and applications are at your fingertips wherever and whenever you and your team need it.
For many businesses that have been using MS Office across their networks, Office 365 is a godsend. For these companies, Microsoft's Exchange Server and other business tools have been the lifeblood of their organizations. However, putting all of what Microsoft has to offer to work used to require a sizeable investment in software and hardware, as well as a team of IT support technicians to manage the setup. But not any longer, thanks to Office 365, all the power of MS Office that you need to make your team more proficient is just a click away.
The Office 365 business tools offer exceptional capabilities that are not found in the boxed editions, bundled in a web-enabled package available as software-as-a-service. Subscribers get the same applications and productivity software as the offline editions –including the desktop Office Professional Plus–while leaving the cost and hassle of maintaining infrastructure to Microsoft.
Office 365 subscriptions are wrapped up in two basic versions: 'Small Business and Professional', and 'Medium Business and Enterprise'. Irrespective of which plan you sign up for, your Office 365 deployment will give you access to Skype for Business, Exchange Online, and SharePoint Online, as well as Excel, Word, OneNote, and PowerPoint.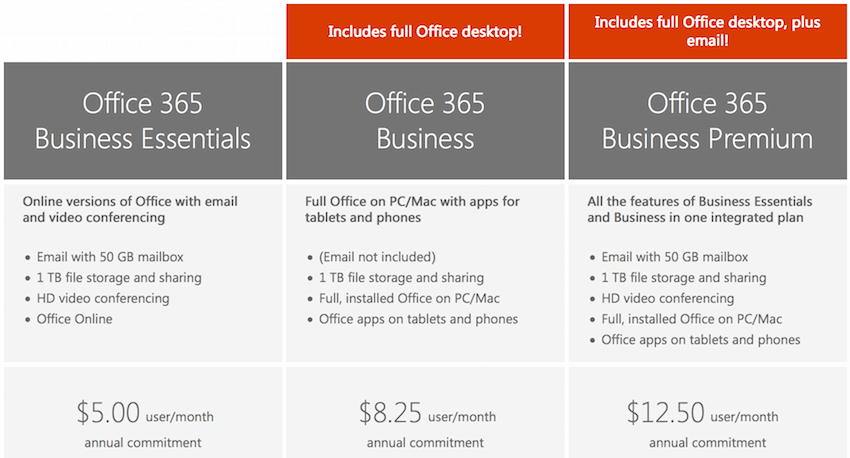 All-in-all, Office 365 is a fully integrated suite of tools, with all the functionality of Microsoft's unsurpassed productivity applications in full force and then some. It is all told a lot of bang for the proverbial buck.
Explore Office 365: https://products.office.com/en-us/business/explore-office-365-for-business
Keep an eye on what is new in development on the Office 365 platform, as well as what has already been launched. Office 365 Roadmap: http://office.microsoft.com/en-us/products/office-365-roadmap-FX104343353.aspx
Watch this video: https://vimeo.com/122791026. Learn more about the Office 365 roadmap.

Google Apps for Work
Small to medium sized business owners have many good options when it comes to cloud productivity tools for email, various documents, team scheduling and sharing these properties.
Google Works packs all the familiar Google Apps into one integrated suite, including Gmail, Drive, Hangouts and Calendar. While Office 365 has the long legacy of tried-and-true, Office apps in it is stride, such as MSWord, Excel, PowerPoint and Outlook.
For various reasons, Office 365 has quickly risen to the point of dominating the market. While Google for Work and Microsoft Office 365 offer many similar services, choosing between the two can be a bit of a challenge. Both platforms are enterprise class, with almost identical offerings.
In many ways, Google Works is a cost-effective equivalent of Office 365, and it is a great fit for both the lean startup and small business. However, there is nothing developed yet that allows both to 'play together' without a hitch.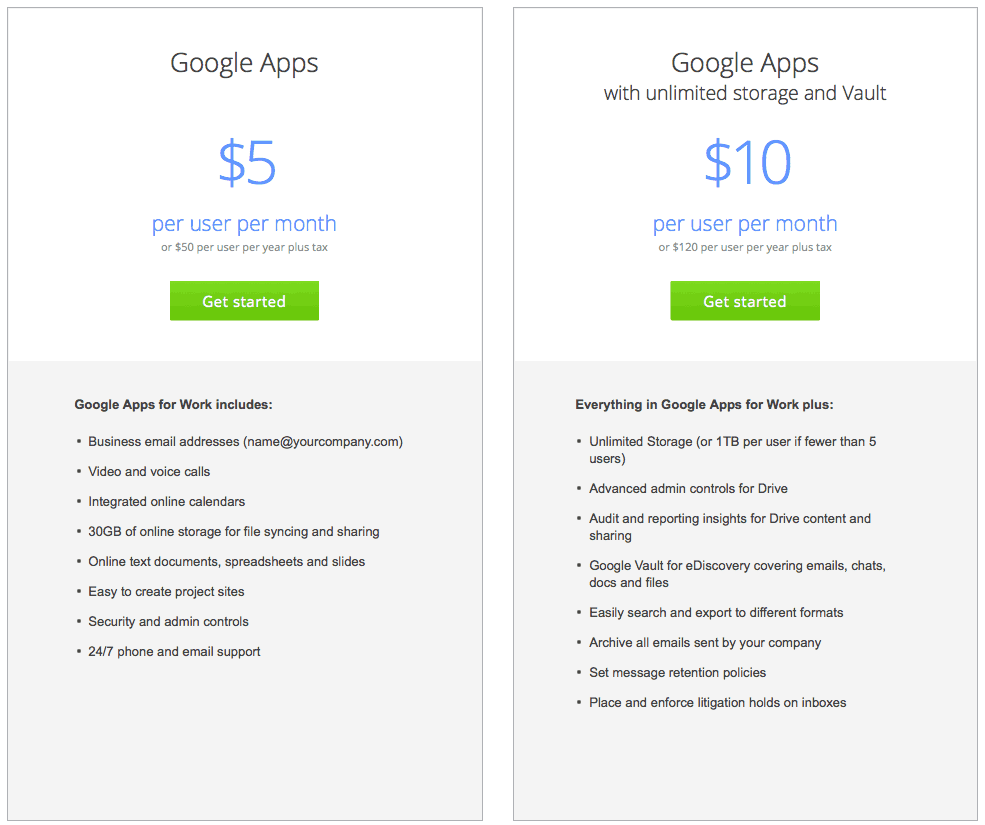 It has been told that there are little hang-ups with Google for work that can add up to a choice between the two. However, keep in mind that cloud applications such as these are in constant development, and there is the likely hood of improvements in these respects. Problems with shared calendars, and not being able to move Excel formulas directly into Google Spreadsheets, could be glitches that you might be willing to do without – at least for the present.

Network Attached Storage
Are you still hanging on to your trusty timeworn server that is not so gracefully aging towards obsolescence? Maybe there is a necessary software on your old server that is still running an ancient operating system, simply because it is still "good enough" and "it works fine."
In many ways, your way-back server is like an old car. You know all its kinks, but at least it gets you as far as you need to go. Nevertheless, lurking under the hood of your trusty old car, just like your old server, are hidden risks that eventually will come to light and cause very ruinous problems when you least expect it.
It is time for an upgrade, and the answer to what may be a worthwhile, affordable, maintainable, and secure step up from your dusty old server, is closer than you think.
What is Network Attached Storage (NAS)?
The file servers of days gone by are full-size server computers with special operating systems and multiple disk drives that used to offer a serviceable, central place for sharing data over networks. However, in the present day, Network Attached Storage provides the same features with considerably better muscle, efficiency, and upgradability.
If you need to set up a network for sharing data and applications on multiple computers, you may be a candidate for network-attached storage. Unlike a full-fledged server machine, which is put together with a complete set of hardware and software to serve its purpose; NAS servers consist of an operating system with only rudimentary specialized parts, put together for optimal performance.
Some NAS servers are used merely for backup and sharing of files and data across a network, but other booths can do lots more, including sharing a printer amongst networked devices, streaming media, or even acting as a surveillance volume supporting linked surveillance cameras.
There are NAS boxes with either a single storage drive or multiple drives that allow superior data protection ability and incredible storage capacity.
Benefits of Network Attached Storage
NAS is an ideal network server solution for Small to Medium-sized Businesses; here are just a handful of reasons why:
1) Flexibility
Network Assisted Storage can serve multiple devices, mobile or immobile, over a wired or wireless network.
It is easily upgradeable with additional storage capacity by simply plugging in an extra hard drive.
NAS allows networked users to use storage capacity, according to each user's needs.
2) Meets the needs of Small to Medium-Sized Businesses.
Business owners more often don't have the resources to employ an IT staff to support complex network systems. If a network outfit is difficult to maintain and work with, things could get bungled up, which leaves crucial data in a vulnerable position.
NAS servers, on the other hand, are easy and quick to configure and set up. It is practically as simple as plug-and-play. To make things easier, most NAS boxes will lead you through the setup with wizards and straightforward tools.
3) Total Data Protection
Disk failures are a fateful reality; it may happen on any type of storage device. Also, if your data is not protected against catastrophes of this kind, a disk failure could lead to loss of your data.
With just a few steps, however, you can initiate automated backups and RAID protection to prevent your business from undergoing the agonies of data loss.

IT Security
Secure your business without forking out a dime
While the small to midsized business usually does not have the indulgence of an IT security team and capitals that the large enterprise can afford, it still faces many of the same security threats.
Businesses make up a vast majority and a crucial part of the economy. Their clients certainly expect their personal information to be protected, and a breach of security can turn out to be a harrowing and costly ordeal. Unlike larger organizations, even small businesses have to abide by "Payment Card Industry" rules. This can be demanding for small companies that may not even have the luxury of an IT support team to deal with network security.
However, what if I told you that there are security switches in the resources that you already have at your disposal? These often overlooked resources that could vastly improve your safety if you just put them to use. Here is how to get started with tightening your security:
1. Prevention is better than cure
Become educated, and train employees about the nature of security threats and preventative measures.
The small business owner is inclined to think that cyber-villains are not out for small fry, but bigger business, but the truth is less comforting. Cyber criminals are out to target any sized business, and the networks they use for transactions to commit fraud. The consequences for the unsuspecting business are brutal.
Banks may even give the small business a hard time, questioning the security it has in place. How does cybercrime often begin? In many cases, the victim opens a "phishing" e-mail message with an attachment laden with malware that will let the attacker begin infiltrating the network. To tamp this down, spam filters should be in place to try and catch phishing e-mails and other junk.
Some of the methods used by cyber-criminals like "phishing" e-mails, malware, and phone scams will get pass unprepared employees. So they should be trained not to be unguarded against anything unusual. Put down rules of behavior to regulate how your staff handles and protects customer information and other sensitive data.
2. Deploy the security basics
That includes firewalls for all your wired and wireless devices, and anti-malware on servers and endpoints. And be rigorous about updating and patching all your applications as often as possible.
Consider technologies such as 'whitelisting' to run down downloads of computer software.
Because web-distributed malware is also a commonplace, you might want to set up Web-surfing controls on your employees' internet use.
3. "Mobilize" your security plan
The era when mobile devices will invade the workplace is here, and it is unruly. Recognition is needed to stipulate security requirements and methods of securing the data on your employees' laptops, tablets and smartphones. It will mean that your employees need to balance the security requirements of the business with the personal usage habits of the individual who owns the device.
Implement policies; that means working out a set of rules that plainly outlines how your employees are expected to use and protect data.
4. Backup your data
Bad things happen to good businesses. Equipment breakdowns, fires, theft, malware etc. are all things that can jeopardize the security of your information and data.
Automate the data backup process. Ask yourself the question how your business would be able to carry on if physical assets were suddenly out of commission. Plan for disasters— and trial run your strategy to make sure it is workable.
5. Restricted Access
Prevent unauthorized persons from fiddling with your business IT resources. This might include the night cleaning crews, and have authorized persons cleared with their passwords and restricted permissions. Strictly speaking, employees should only be allowed the liberty to access data and complete tasks that are relevant to their jobs.
6. Protect your business against the repercussions of fraud
It is crucial to set up procedures to verify that your company adheres to anti-fraud policies and to detect and deter possible swindles. As a small business owner, you should commit to taking control by developing an anti-fraud policy that:
Makes that anti-fraud work tools and practices are followed.
Dictates work processes in sensitive areas of your business.
Arranges checks and balances.
Also, make sure that you are taking advantage of the anti-fraud services that might be offered by your bank and/or payment processor.
That is all for now. I hope you have found this article useful. What is your biggest IT problem at the moment? Let me know in the comment section or head over to the contact form and send me a message. Thank You for reading.
https://ifeeltech.com/wp-content/uploads/2015/07/IT-Cheat-Sheet-2015-iFeeltech.png
278
850
Nandor Katai
https://ifeeltech.com/wp-content/uploads/2021/10/iFeeltech-IT-Services-SVG-Logo-Enfold.svg
Nandor Katai
2015-07-24 08:59:36
2018-05-01 10:03:58
The Small Business IT Cheat Sheet (for 2015 and beyond)