Comparison of Microsoft Office 365 and G Suite

Last Updated on May 1, 2018
Updated: August 29th, 2017
When it comes to cloud-based productivity software suites, small businesses have two main alternatives: Microsoft Office 365 and G Suite (formerly called: Google Apps for Work).
Currently, there's a fierce competition among the world's biggest software companies. Google is seeking to attract more customers with increased storage space and tight integration of Google Suite with Chrome OS, Chromebooks, and Android devices.
Microsoft, on the other hand, is adding more features like powerful spreadsheet analytics and a revamped version of Skype for Business to its web-based office suite, to attract more sophisticated business users.
In this comparative review, we will be looking at various aspects of these two software bundles and offer our recommendations on the one you should use for your business.
Products and Features
Microsoft
The most basic business version of Microsoft's product is known as Office 365 Business Essentials. With this release, you have the online versions of Word, Excel, and PowerPoint. You also enjoy business-class email, calendar, and contacts from Outlook including 50 GB inbox storage space.
Instant messaging is also available while the new Skype for Business app provides facilities for online meetings and high definition video conferencing.
Collaboration with employees is improved with a corporate social network called Microsoft Team that makes communication easy across locations, departments and business apps.
For the full Office 365 suite of programs including full Excel functionality, Access, OneNote, and Publisher, you can upgrade to Office 365 Business Premium.
This version offers the fully installed desktop Office suite. You can install it on five PCs/Macs, on five tablets and five phones.
Microsoft's growing library of available applications in Office 365 as of summer of 2017.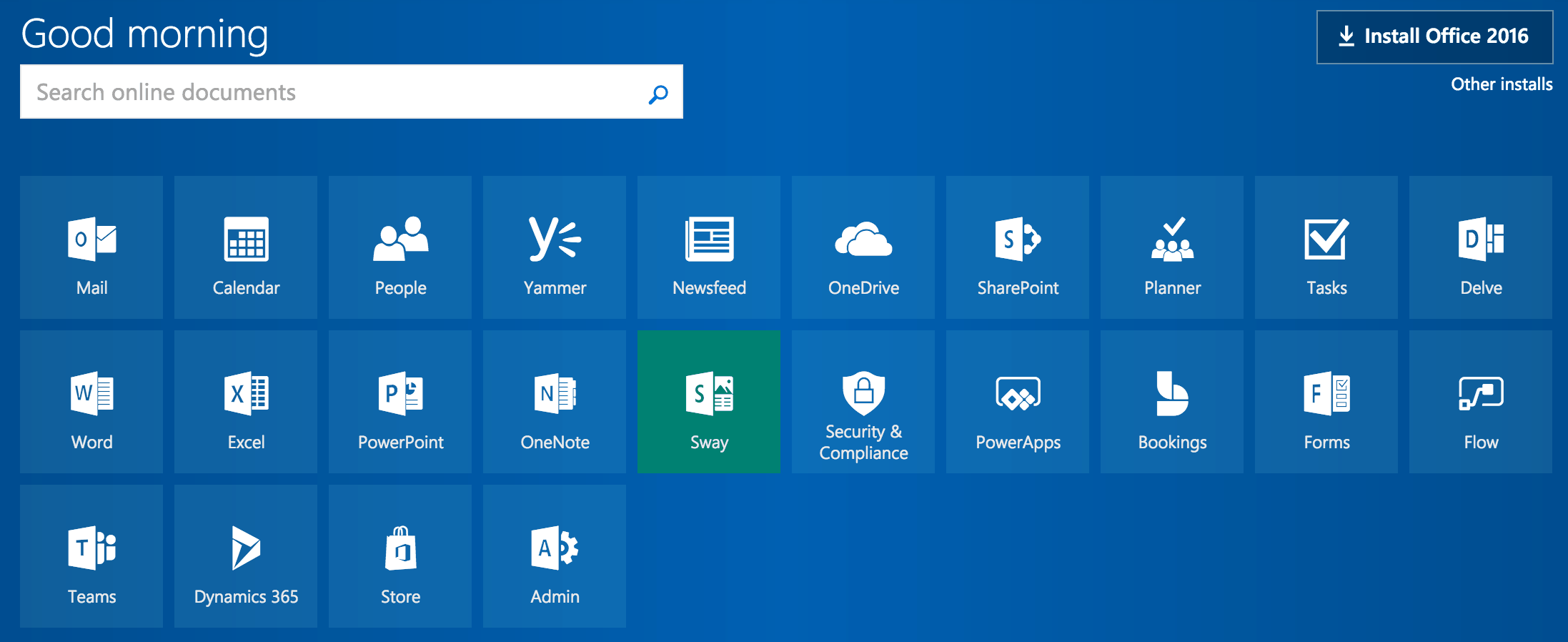 Google
G Suite includes products such as business email (with your company domain name), Calendar, Hangouts for video conferencing and instant messaging. Docs, Sheets, and Slides applications are available for text documents, spreadsheets, and presentations.
Sites and Admin apps serve as website building and administrative tools respectively. Storage per user is in the basic version is limited to 30 GB.
Google also provides the "Business" version with Unlimited Storage. But the storage limit is currently pegged at 1TB per user if you have less than five users. This plan contains everything in the basic version of G Suite plus advanced audit and reporting tools, search tools, and complete archiving of all emails.
Available applications in G Suite as of summer of 2017.

Pricing and Payment Plans
Office 365
Office 365 Business Essentials plan costs $60 per user/year. This equates to a monthly cost of $5, but you need to make an annual commitment to enjoy this rate.
The premium plan costs $12.50 per user every month when you make an annual commitment. But you may pay monthly at a rate of $15.00 without the yearly commitment.
The total number of users allowed for these small business plans is 300. If you need to register more users, you will need to pay for Enterprise plans.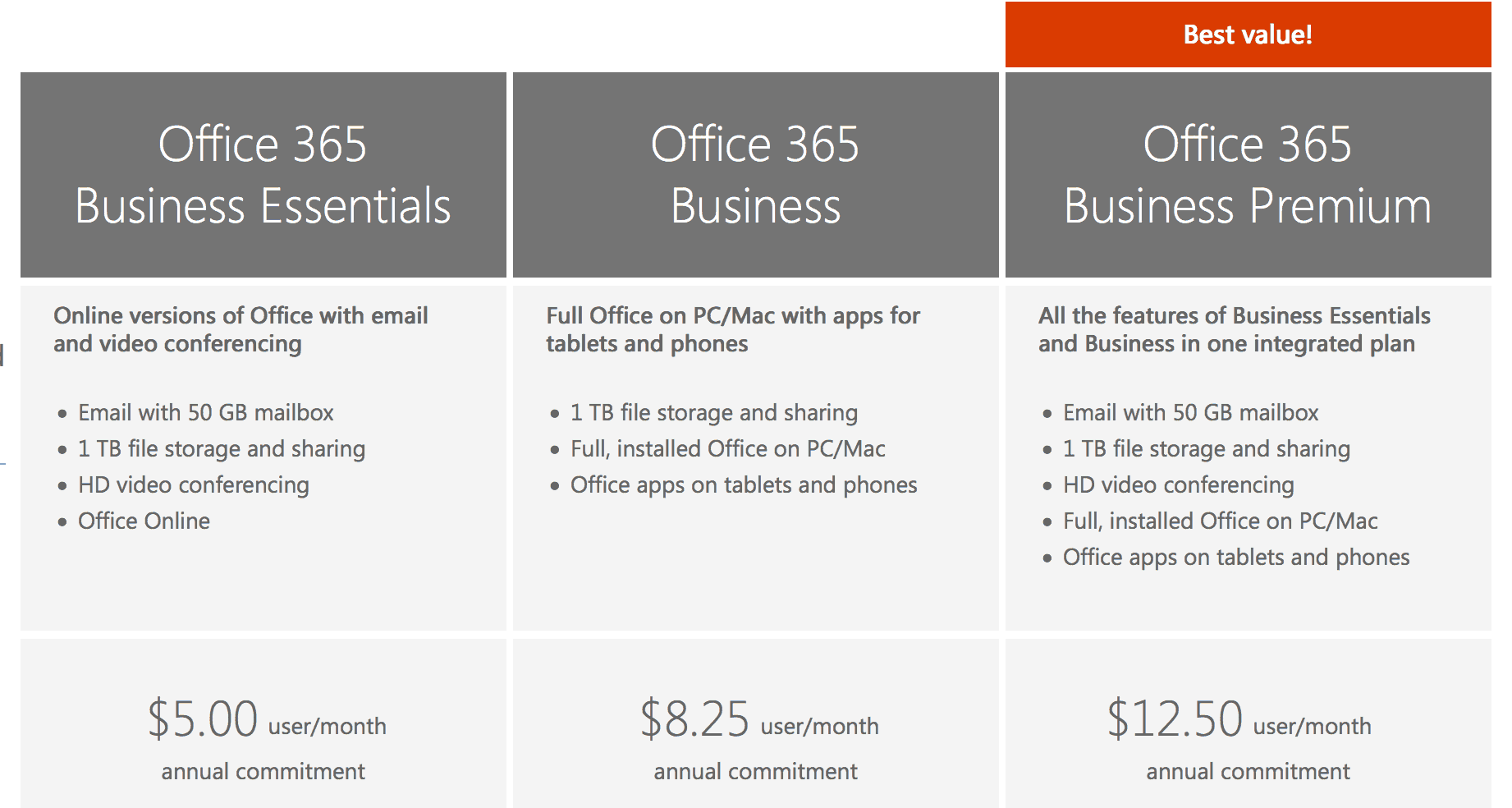 G Suite
The G Suite Basic plan costs $5 per user/month while the unlimited Business plan costs $10 per user/month. Also, you can choose between the Flexible Plan and Annual Plan for payment.
With the Flexible Plan, you can delete or add users anytime you want, you pay for the service you use that month, and you are billed monthly.
The Annual Plan makes you commit to using the Google Apps for one year at a discounted rate.
You are allowed to add more users, but you cannot delete a user without a fee. You pay $4.17 per user/month under this plan.

Ease-of-use and Performance
Google Suite
G Suite provides tools for typing and formatting documents, creating presentations, and basic spreadsheet operations.
Many of the bells and whistles found in Microsoft Office 365 are not included. But the apps load quickly and function efficiently on most mobile devices.
The performance of Google Drive is also quite stable without any major downtime or hitches reported by most users.
Intro to Google Suite:
Microsoft Office 365
Microsoft has achieved a lot by moving the entire desktop office suite to the cloud. The initial bugs are constantly being fixed with regular software updates, and new features are frequently added.
However, at this time, there are still many performance issues noticed with the online application. The OneDrive storage facility does not come up to speed on older computers and mobile devices with lower specifications and has a couple of limitation.
This could make your workflow less fluid when you are collaborating on a document with another user online. But with the Premium version, you can work efficiently offline even on Android and iOS devices without any performance issues.
Intro to Office 365:
Devices Supported
Google
G Suite work on virtually any mobile devices. They work perfectly on PCs, Macs, Chrome OS, Android, and iOS. Since files are stored on Google Drive, you can use Google Apps and work with your files anywhere there is a mobile internet connection.
That is why there is tight integration between Chromebooks and G Suite. Chromebooks were originally designed for people who need to have access to their files and productivity tools everywhere they go.
Microsoft
Office 365 also works on PCs, Macs, iOS, and Android devices. Microsoft has also decided to provide a strong competitor to Google Chromebooks.
The ASUS Transformer Mini which runs on Windows 10 is sold for a similar price. But if you are looking for something with a sleek new design and specs that can even same an Apple MacBook, take a look at the new Surface laptops introduced in 2017 starting at 799$.
Video Conferencing
Hangouts
Towards the end of 2014, Google added the Hangouts application to G Suite. Thus, it has removed Hangouts from the exclusive use of Google+ users. 
Admins of Google Apps have also been given the ability to control the Hangouts tools for linking and sharing to improve collaboration among employees. 
Several add-ons are also being developed for this video chatting platform to broaden its adoption by business users.
Skype for Business
In the same vein, Microsoft has merged the Lync video chatting software with Skype for Business in 2016. This is in line with its focus on cloud and mobile-first strategies.
Since Skype is already a hugely popular platform used by millions of users around the world, it is going to attract more business owners to the Office 365 suite.
Final Thoughts
In 2017 and beyond, the battle of Microsoft Office 365 vs. G Suite, for the cloud office market, will grow stronger.
Both Microsoft and Google will continue to attract more business users with innovation and generous offers.
But to choose the best office suite for your business, you need to consider how you work and communicate with other members of your team.
If you need a low-cost cloud office solution that provides basic functionality and good performance online, you are better off with G Suite. But if you need the full-featured Office productivity suite and advanced spreadsheet functionality, you should use Microsoft Office 365.
To sum up, a good starting point for new businesses and startups with limited resources is Google Suite Basic. But established businesses with employees, who need to work on established spreadsheets in Excel, databases in Access, or use some of the advanced Microsoft Office tools and want to stay with Microsoft Office, should go with Office 365.
iFeeltech offers free IT consultation on migration services to Office 365 and Google Apps for Work to small businesses in Miami, FL. If you have any questions or comments, please contact us or drop us a line below.
https://ifeeltech.com/wp-content/uploads/2015/02/google-vs-microsoft.png
450
1029
Nandor Katai
https://ifeeltech.com/wp-content/uploads/2021/10/iFeeltech-IT-Services-SVG-Logo-Enfold.svg
Nandor Katai
2015-02-25 19:56:56
2018-05-01 10:03:58
Comparison of Microsoft Office 365 and G Suite