Comcast's Gigabit Internet Service Now Widely Available to Miami Businesses

Last Updated on June 29, 2018
If you are in Miami and looking for a high-speed internet service provider, Comcast Gigabit Internet is there to impress. It promises to provide exceptional coverage, speed, and control you need to enjoy the ultimate internet experience. With this internet package, businesses will now be able to consistently enjoy super fast speeds that will run even during peak hours when most people are online.
Comcast's Gigabit Internet allows up to 1-gigabit download speed for employees within a company, which is estimated to be 80 times faster than the average internet access speed in America. With this service, businesses in Miami now have enough speed to connect more devices, allowing them to run their businesses on faster and more reliable network.
Who is Comcast?
Comcast is an international media and technology company that deals with two primary businesses;
• Comcast cables
• NBC Universal
Comcast Cable is one of the nation's most extensive video, high-speed internet and phone providers to residential and commercial consumers. This company has built one of the largest gig-speed networks in the country. This new service uses DOCSIS 3.1 Technology, which enables users to receive gigabit internet speeds over communications line that most users already have connected in their homes or offices. Companies can now look forward to fast, reliable internet connectivity throughout their enterprise, which essentially means improved productivity.
How fast is it?
• Download large files, reports, invoices, records, images, and videos more quickly saving on time
• Connect to more users in real-time, improving their customer service
• Businesses are now more able to process multiple card transaction transfers enhancing reliability and convenience
• 4K Video streaming and high-resolution Video Conferencing is no longer an issue
Companies can now run multiple backups, services, and cloud-based apps all at the same time without having to halt one for the other to work.
Key features
Budget Friendly
Designed to fit most business and its budget: With Comcast, Gigabit Internet companies can count on speeds that are 20x faster than what other internet service providers offer at a relatively more affordable monthly price. According to Comcast marketing team, users will now be able to download files as big as 5GB within 40 seconds and 15 GB content in less than 2 minutes.
Easy Installation
Swift and simple installation that eliminates disruptive construction. As consumers and businesses across Miami continue relying heavily on the internet, Comcast Gigabit has the advanced technology required to meet this ever-growing demand. Comcast Gigabit can now deliver gigabit speed internet across Miami over a network that is already serving thousands of homes and businesses in the area. This technology uses existing communication lines, meaning that users do not have to worry about the costly and disruptive construction of new network facilities. This will benefit even small businesses that need faster download speeds on a budget.
More outreach
Comcast Gigabit Internet Miami enables enterprises to deploy gigabit services more widely across its existing network, allowing them to reach more customers.
Hotspots
Comcast also gives users access to millions of WiFi hotspots across the state. The user can enjoy hot spot internet services at no extra cost. They also provide access to a new set of security features at some selected hotspot points across the country.
Scalable
Comcast's gig-speed networks enable businesses to quickly and easily scale the network capacity to best suit their unique needs and to support new technology applications both on-site and in the cloud. Businesses of all sizes in Miami, whether a small company with one location or a distributed enterprise with multiple locations across the country can now easily move to cloud-based operation models.
Suitable for most businesses
Thanks to its speed and cost efficiencies, this new internet service is suitable for businesses across several industries, including government, manufacturing, hospitality, retail, and healthcare. The residential service run at $140 per month without the need of a term contract and business plans start at around $300.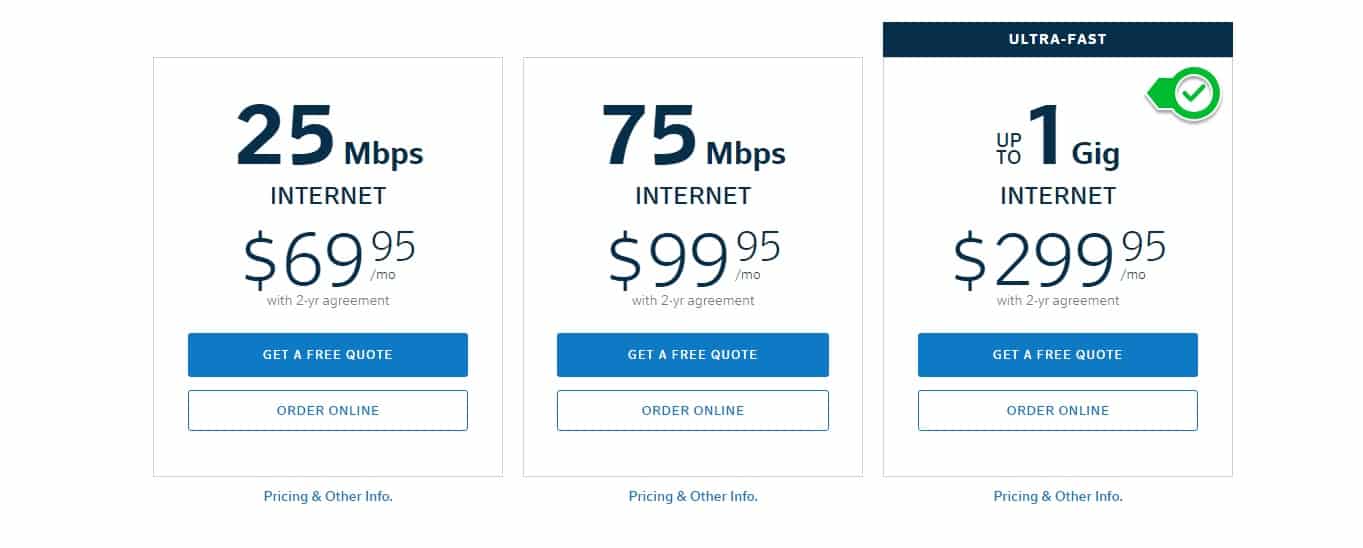 Other than this internet service, the company has also enhanced its high-speed offering, including;
• A progression of its State Wi-Fi network, which currently includes 18 million hotspots
• Expanding its gigabit network dimensions every 18 to 24 months
• HostingxFI – a free network platform that allows users to customize, personalize and control their WiFi experience.
• Multi-Gigabit speed tiers are also available to large enterprises.
Over the past 17 years, Comcast has been able to increase their internet speed 17 times over. Business Internet 1Gigabit and Business Internet 500 Mbs speed tiers are available to business consumers in Miami, Florida. These new tiers complement the multi-gig options that are already available to Comcast business customers. These tiers include Comcast Business Ethernet that the company launched and has been expanding since 2011.
Conclusion
So there you have it. Gigabit internet is no longer just a catchy headline in a tech magazine, it's here, and it's readily available to almost everybody in the Miami area. However, before you dive in, make sure your internal network is up to par and ready to receive gigabit speed otherwise you are paying for a service you can't fully take advantage. You need to make sure your router, network switch, workstations, cabling and wireless access points are all up to date. If you are not sure, you can take advantage of our Free Technology Assesment where we analyze your network and help you find ways to improve your IT setup.
https://ifeeltech.com/wp-content/uploads/2018/06/Comcast-Gigabit-Internet-Service-in-Miami-FL-iFeeltech-IT-Services-Miami-1.png
512
1024
Nandor Katai
https://ifeeltech.com/wp-content/uploads/2021/10/iFeeltech-IT-Services-SVG-Logo-Enfold.svg
Nandor Katai
2018-06-13 11:59:06
2018-06-29 16:03:25
Comcast's Gigabit Internet Service Now Widely Available to Miami Businesses