Cost-Effective Network Routers for Small Businesses: Synology, Unifi Dream Machine, and TP-Link Omada

Last Updated on February 1, 2023
Small business owners know the importance of a well-functioning network for their daily operations, and the network router plays a critical role as the connection between the local network and the internet. However, finding the right router can be challenging, mainly when budget constraints are a concern.
Synology Routers
Enter Synology Routers, offering a cost-effective solution for small businesses seeking budget-friendly network routers. These routers boast a compact design and user-friendly interface, ideal for companies with limited IT support.
But don't let their affordability fool you – Synology Routers deliver in terms of security, speed, and customizability. They strike the perfect balance between cost and features, allowing small businesses to enjoy the benefits of a secure and efficient network without breaking the bank.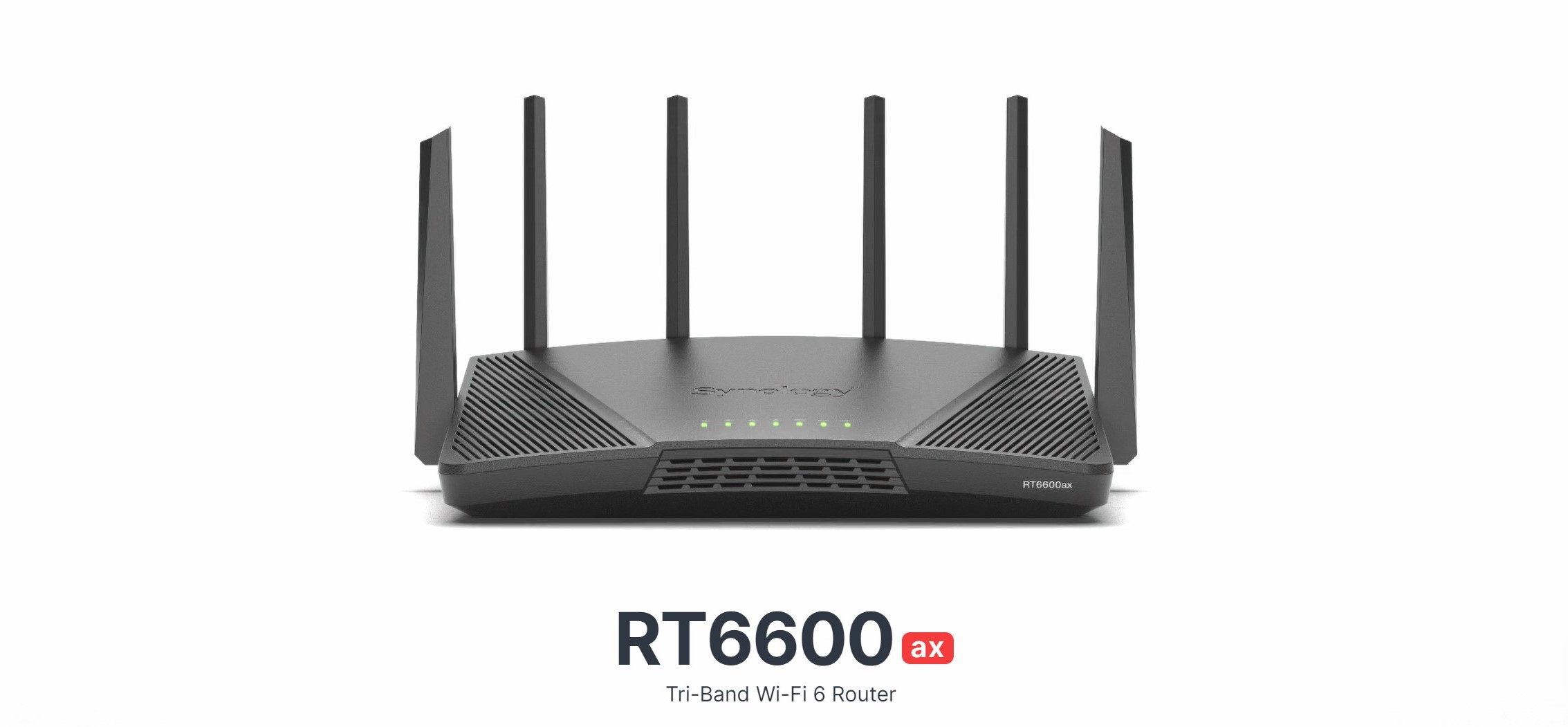 Current Version: Synology RT6600ax.
Impressive Specifications: The RT6600ax Wireless Tri-Band 2.5G/Gigabit Router from Synology delivers high-speed, reliable wireless connections for your computer, mobile, and smart devices. Powered by a 1.8 GHz processor and equipped with 1GB of memory and six external antennas, this tri-band Wi-Fi 6 router delivers data transfer speeds of up to 6600 Mb/s across the 2.4 GHz and dual 5 GHz bands, ensuring smooth streaming, online gaming, and video chats.
Robust wireless capabilities: The 5.9 GHz band access offers congestion-free 80 and 160 MHz channels, providing clear signals and ample bandwidth. With its 2.5G combo port, you can use multi-Gig internet connections or high-speed network storage devices. In addition, three Gigabit Ethernet LAN ports are available for wired connections and a dedicated Gigabit WAN port for broadband modems.
Easy Management: The mobile app allows for quick and easy configuration, management, and network monitoring from anywhere. In addition, your wireless signal is protected by WPA3 encryption. You can manage your network, from limiting bandwidth to specific devices to setting up guest login access and parental controls.
Remote VPN Access: With Synology WebVPN, accessing office web applications is a breeze, eliminating the need for a VPN desktop client. Instead, connect securely to your home or office network from anywhere, or set up a site-to-site bridge to join the two networks.
2. Unifi Dream Machine
The Unifi Dream Machine Router is a budget-friendly solution that caters to small businesses seeking simplicity in network management. Its user-friendly interface is an excellent choice for those with limited technical expertise. In addition, the router's management interface makes it easy for business owners to configure and manage their networks without relying on external support.
But the Unifi Dream Machine Router isn't just about ease of use – it also offers robust security options and fast performance. Compared to other routers in the market, it provides a winning combination of affordability, user-friendliness, and performance, making it a top pick for small businesses.
Current Version: UDM SE
It streamlines your small to medium-sized business network, providing a complete solution in a single 1 RU rack system. With this enterprise-class network device, you'll get a dual-WAN router, security gateway, PoE-compliant network switch, and network video recorder (NVR) all rolled into one.
Business Grade All the Way:  Designed to help business owners manage and scale their network connections, the UniFi Dream Machine Special Edition features both 2.5G Ethernet and 10G SFP+ fiber WAN ports. It also offers a robust security gateway with customizable internet threat filtration and traffic identification, boasting a 3.5 Gb/s max throughput rate.
Plenty of ports: The built-in 8-port managed network switch, combined with six 15W RJ45 Ethernet ports and two 30W ports, ensures seamless power and data delivery to IP cameras and other PoE-compatible devices.
NVR Storage: You can store surveillance recordings on the integrated 128GB solid-state drive and upgrade storage capacity with a separately purchased 3.5″ hard drive.
Powerful Data Processing: This device packs a punch with its 1.7 GHz ARM Cortex-A57 quad-core processor, 4GB of memory, and 16GB of onboard eMMC flash storage. It also includes a convenient 1.3″ touchscreen that displays the device's status for easy monitoring and troubleshooting.
Easy Setup: Set up is a breeze with Bluetooth-powered configuration via the UniFi Network web application or mobile app. The UniFi OS integration allows you to run current and future applications from a single interface, and the UniFi OS Portal gives you remote access to your network from anywhere. In addition, a comprehensive set of management features lets you tailor user, role, and group-level network use.
TP-Link Omada Router
Small businesses looking for a budget-friendly solution to meet their network needs will find the TP-Link Omada Router to be the answer. This reliable router delivers advanced security features and swift performance, making it ideal for small businesses seeking security and efficiency.
Compared to other routers available, the TP-Link Omada Router shines in the arena of reliability. In addition, its top-notch security features offer peace of mind, knowing your network is protected, and its fast speed guarantees seamless operation. Overall, the TP-Link Router perfectly balances cost and performance, offering small businesses a cost-effective yet powerful network solution.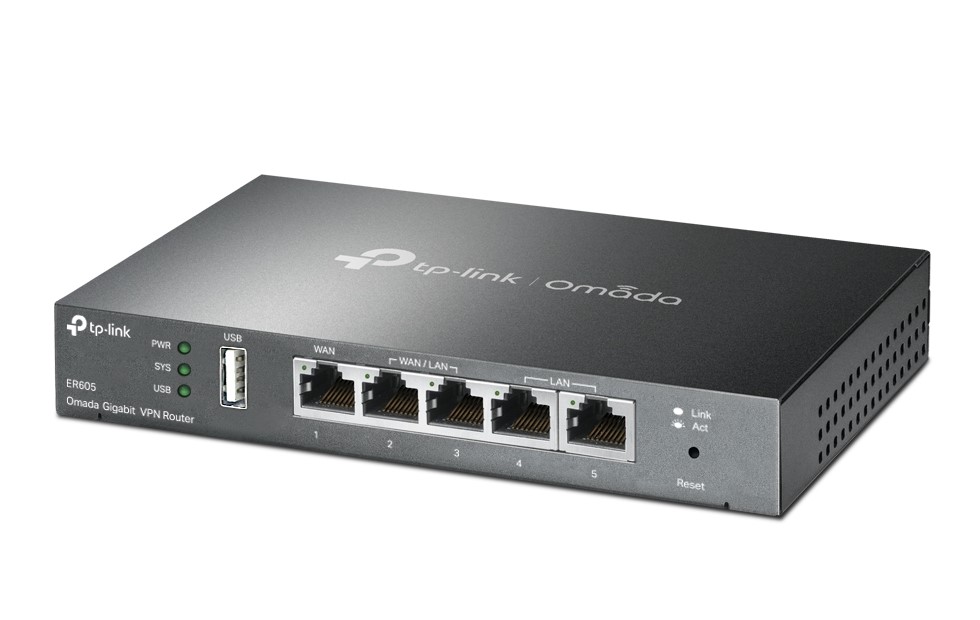 Current Version: ER605
Small businesses looking for a secure network solution can use the ER605 V2 Omada Gigabit VPN Router from TP-Link. This highly flexible VPN router boasts five Gigabit Ethernet ports, two of which can be easily switched between WAN and LAN modes.
Dual Wan with 4G Backup: The dedicated WAN and two LAN ports allow multiple internet connections through one device. At the same time, the multi-WAN Load Balancing function optimizes multi-line broadband utilization by distributing data streams based on the bandwidth proportion of each connected WAN port. In case of a backup connection, a mobile 4G/3G broadband modem can be connected to the router through the USB 2.0 port.
Fast VPN: Regarding VPN and security, the ER605 V2 provides extensive coverage, featuring IPSec, PPTP, and L2TP VPN support over IPSec/SSL protocols, VLAN support, and advanced firewall policies. In addition, the IPsec VPN has a maximum throughput of 248.04 Mb/s and can handle up to 150,000 concurrent sessions.
Powerful Controller App: The Omada app, used with a separate controller, allows for remote configuration of the ER605 V2 VPN router and other compatible network devices from almost anywhere at any time.
Flexible Connections: The ER605 V2 VPN router offers five Gigabit Ethernet ports, including two fixed LANs, one dedicated WAN, and two WAN/LAN ports.
Optimized Bandwidth: The multi-WAN Load Balancing function distributes data streams based on the bandwidth proportion of each connected WAN port, maximizing multi-line broadband utilization.
Centralized Cloud-Based Management: Integrating with the Omada Software Defined Networking (SDN) platform allows for centralized network management through the web interface or Omada app, with an Omada hardware, software, or cloud-based controller required.
Internet Access Management: Administrators can control internet access for employees via IP/MAC/URL Filtering and Access Control List (ACL) and regulate network resources through Captive Portal authentication.
In conclusion
Choosing the appropriate network router for your small business is critical. Fortunately, several budget-friendly options are available, including the Synology Router, Unifi Dream Machine Router, and TP-Link Omada Router, that can meet the demands of small businesses. The most suitable router for your business will depend on your specific needs and network environment.
For those seeking further information, iFeeltech offers free consultations. Don't hesitate to contact us or schedule an appointment for a personalized assessment of your network router needs.
https://ifeeltech.com/wp-content/uploads/2023/02/network-switch-and-ethernet-cable-in-data-center-wifi-plug-of-internet-router-for-computer-network-hub-communication-networking-wireless-network-switch-and-ethernet-optic-fiber-cable-in-the-rack.jpg
1042
1600
Nandor Katai
https://ifeeltech.com/wp-content/uploads/2021/10/iFeeltech-IT-Services-SVG-Logo-Enfold.svg
Nandor Katai
2023-02-01 15:17:02
2023-02-01 15:17:02
Cost-Effective Network Routers for Small Businesses: Synology, Unifi Dream Machine, and TP-Link Omada