Enabling the Two-Step Verification Feature on Dropbox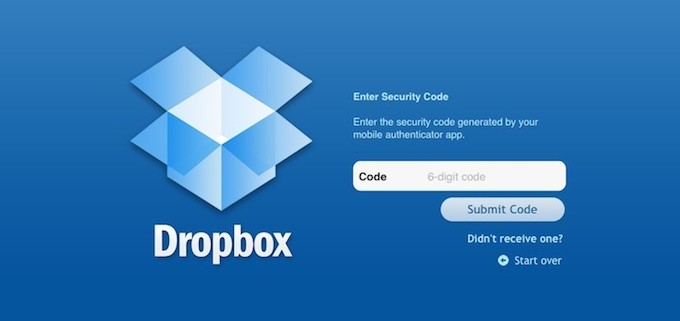 If you're a Dropbox user, we've got good news for you. Now, avid users of the highly popular file hosting service can enjoy a more secure experience, thanks to the newly added two-step verification feature. Dropbox discreetly announced the nifty functionality via its forums a couple of days ago following the reported security breach earlier this month. The company said that the new feature should add an "extra layer of protection" to all accounts. So, how do you enable the feature? Here's how to do it:
Step 1: The first step is to visit this page. After logging in, you will be redirected to the security tab where you can enable the two-step verification right under the "Account sign in" section.
Step 2: By clicking the "change" link, a prompt to enable the two-step verification process will show up and, for security reasons, it will ask you to once again re-enter your password.
Step 3: Then you will have the option to either receive the security codes through a text message or an authenticator app. If you want the security codes to be generated via an authenticator app, you can download Google Authenticator for iOS in the AppStore and scan the barcode shown to you (see example image below). The app will then add your Dropbox token to generate the security codes. You can also opt to enter your secret key manually to get the codes.
Step 4: The last and final step will be to input the security code from the app to verify the setup. From there, you can now enable the two-step verification feature. Also, don't forget to keep the 16-digit emergency backup code.
Please note that Dropbox hasn't officially launched the feature yet, which means that you will have to download the new installer in order to enjoy the feature on your Mac or PC. You can get them here. For now, it is still an "experimental build" that will be subsequently deployed to all Dropbox accounts in the coming days. Cheers!
https://ifeeltech.com/wp-content/uploads/2012/08/secure-dropbox.jpg
383
680
Nandor Katai
https://ifeeltech.com/wp-content/uploads/2021/10/iFeeltech-IT-Services-SVG-Logo-Enfold.svg
Nandor Katai
2012-08-27 06:46:47
2013-12-06 01:13:38
Enabling the Two-Step Verification Feature on Dropbox