Miami Business Internet Showdown 2022 – AT&T vs. Comcast vs. Atlantic Broadband

Originally Published on: Mar 12, 2016
Updated 12/21/2021: Comcast is busy expanding its Gig-speed network making Gigabit speed available to many new locations including Miami Beach. Atlantic Broadband is going strong with new high-speed offerings and low prices, but coverage is still a bit limited. AT&T came out with a couple of ambitious internet plans, but still a bit hard to navigate their website to find availability.
As a business in Miami, you have the option of using Comcast Business Internet, AT&T U-verse, AT&T Fiber, or Atlantic Broadband.
Of course, at the end of the day, you will have to pick one of these three companies as your provider.
If you are having trouble settling on a single company, then the information below should help you make a better choice for your business.
Here, you will find a quick look at what the three companies have to offer; and recommendations on which choice to make depending on your business needs.
Package Choices:
Winner – Comcast Business Internet
Comcast gave a lot of thought to business internet needs when designing its packages.
In total, you will have six plans to pick from ranging from speeds of 25Mbps to 1Gps depending on how large your business is.
Atlantic comes close with a choice of 5 plans ranging from 50Mbps to 1Gbs, while AT&T has three programs that can best serve the intensive internet usage needs of a business outfit.
The AT&T U-verse High-Speed Internet, which has similar plans to Comcast is ranging from 25Mbps to 75Mbps. They also offer fiber internet for businesses starting 100Mbs for 50$.
Maximum Speed and Pricing:
1000
Mbps
Comcast Business
Max Speed
Price: $70-$309
1000
Mbps
Atlantic Broadband
Max Speed
Price: $60-$279
75
Mbps
AT&T U-verse
Max Speed
Price: $60-$115
Fastest Kid On The Block:
It's a Tie – Atlantic Broadband and Comcast
Atlantic Broadband is going strong with its 1GBps residential and business broadband offerings in Miami including some new areas like Aventura, South Miami, and Brickell-Downtown.
The residential version is called GigaFast and carries up to 1 Gbps downstream and 50 Mbps upstream, starting at $59.99/month for new customers. The business version has the lowest price we have ever seen on gigabit internet for only $269.99/month with a 3-year commitment.
Meanwhile, Comcast is busy developing the largest Gig-speed network in Miami which means an easy upgrade for everybody in their large service area. Pricing is very affordable; 1 gig residential service is $140/month and $300/month and up for their business-grade packages.
Best Price:
Winner – Atlantic Broadband
If cost is your highest priority as you shop for a business internet package, Atlantic Broadband might be what you need.
With a price of just $34.99 a month, you will have unlimited calling within the country as well as 50 Mbps internet speeds.
You may have to pay a small setup fee, but even then the average price should still be lower than what AT&T and Comcast are offering.
For the first year, the average price for this plan, including the registration fee, comes to about $75.00 A 50Mbps plan by Comcast goes for $99, and you'll have to pay around $110 for a 45Mbs plan at AT&T U-verse.
Service Availability Issues
Not every Miami business has the privilege of choosing between the three companies.
In some places, the choice is just two, while in others, you might have a single option to work with.
You should make inquiries from the company to confirm whether your area is covered. Alternatively, you can check their coverage maps and see what options you have at your disposal.
Check current pricing and availability:

Comcast Overview
Comcast has both internet and phone services for businesses. Although the company network is built on coax cables which is considered slightly dated, utilizing DOCSIS 3.1 technology Comcast is able to deliver gigabit-speed to every home and business using its current network infrastructure.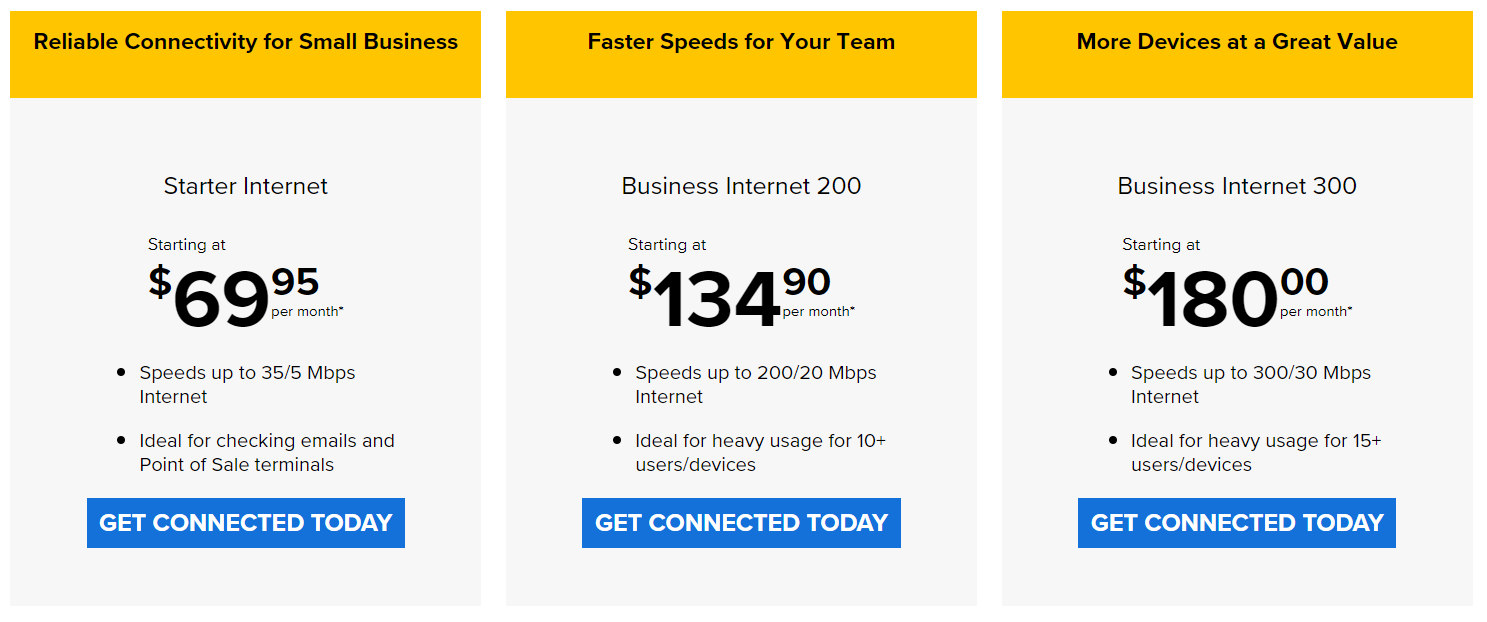 (check out the offers and bundles page for additional options)
Features:
-Comcast offers business internet at speeds of between 50Mbps to 1000Mbps.
-Every internet package Comcast offers comes with an affordable phone and TV service option.
Reliable internet speeds for all kinds of business. Small or large, every business can have its online needs met by the packages Comcast is offering.
Other features and add-ons include unlimited data, business WiFi, as well as off-site mobile access, and added services for business needs such as web hosting and internet while telecommuting.
Comcast's packages are a little more expensive than what AT&T and Atlantic Broadband are offering.
Comcast may be still using coaxial cables to deliver their services, but they are still reliable if you find the packages they are offering appropriate for your business. As with most business bundles, the service comes with both internet and phone services.
AT&T U-verse Overview
AT&T U-verse is offering similar internet plans to Comcast but falls short on the higher spectrum with just 75Mbps maximum speed.

(check out their business bundle page for current promotions)
AT&T Fiber makes up for that, with their 1Gbps fiber-optic Internet solution, which is the best you can hope for as a business.
The other upside is that this service is also quite affordable, making it ideal for a business that needs unlimited bandwidth at a reasonable price.
The downside is availability and the lack of service details regarding businesses plans. Be sure to check their website for service updates.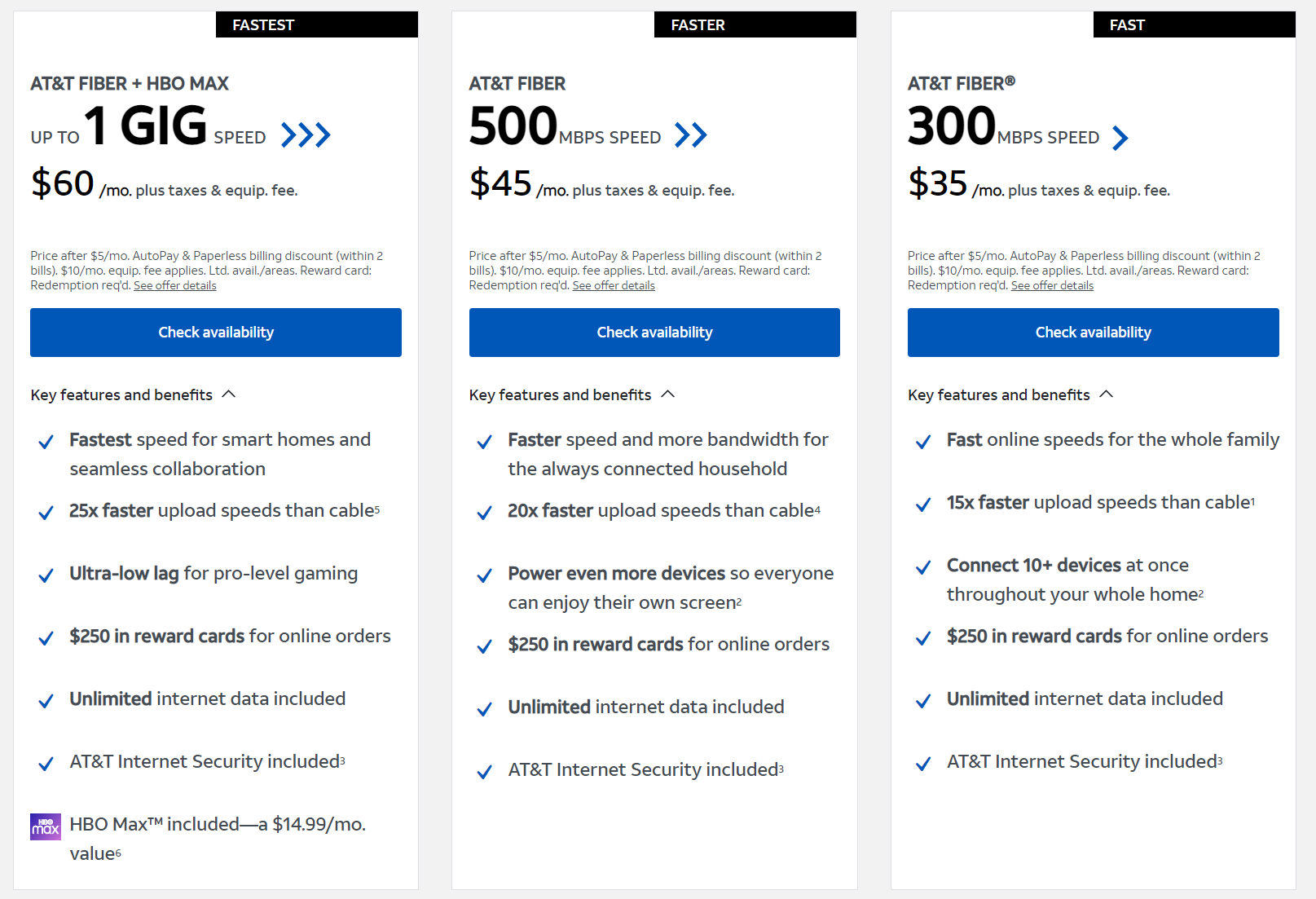 Features
-AT&T U-verse offers business internet at speeds of between 6Mbps to 75Mbps.
-AT&T Fiber, on the other hand, offers 1Gbps Internet, which should be more than enough for any company.
-U-verse Business Telephone: Wit this service, you can get Unlimited local calling with flexible features.
AT&T's Fiber is clearly the best you can hope for when it comes to speeds. So, if your business requires heavy internet use, this is the way to go.
This package offers a great value for money proposition. Many internet plans with speeds that are just a tenth of this speed will cost you more.
The phone service that comes with AT&T Uverse is not as competitive as the other providers, but still should be a solid option.
The lack of information on AT&T Fiber is a bit disappointing, we would like to see at least a simple web page dedicated to their business plans.
With the fiber-optic now in its list of offerings, AT&T has an excellent option for businesses in need of high-speed internet services. If your area is not one of the lucky ones to enjoy Fiber coverage, you might have to settle for ATT's High-Speed Internet packages, which is still a reliable option.
Atlantic Broadband Overview
Atlantic Broadband offers internet speeds of 50Mbps to 1000Mbps to small, medium-sized as well as large businesses.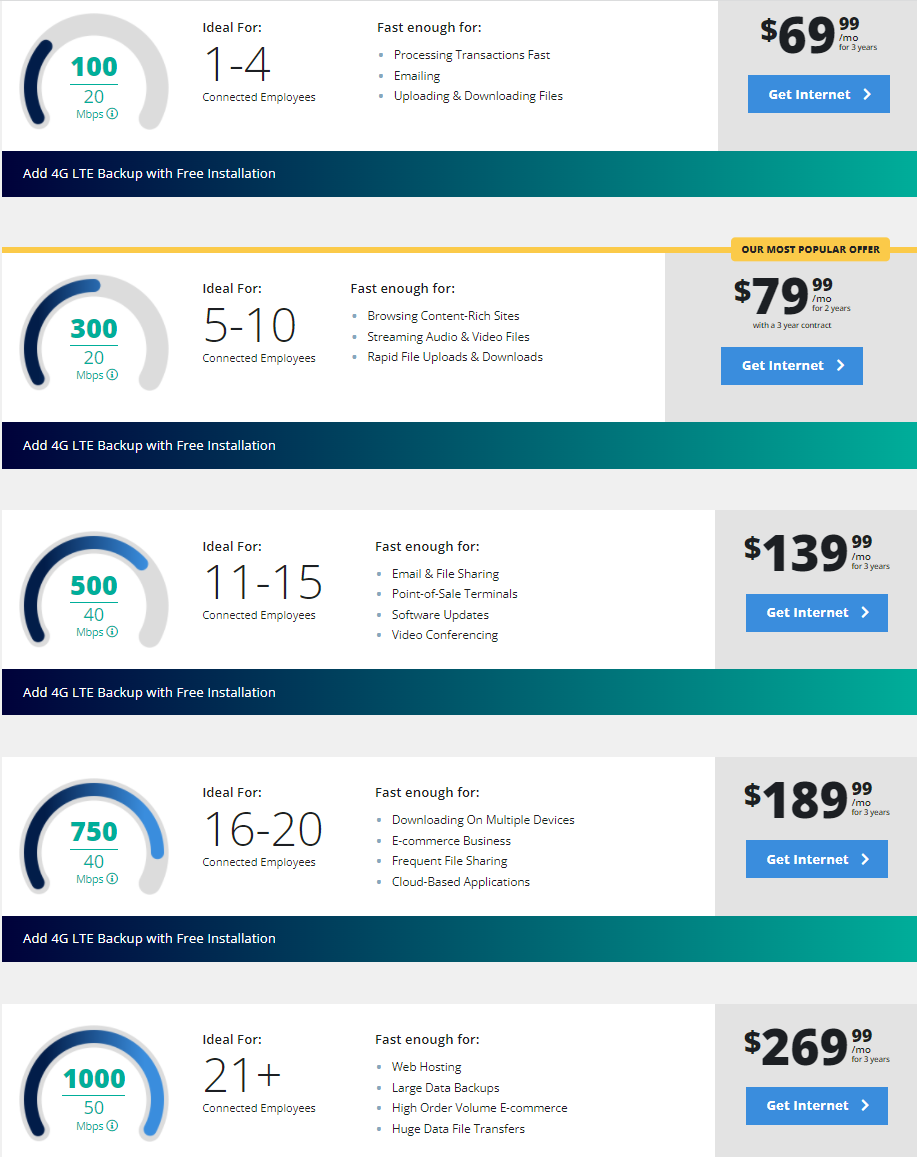 (you can also check out their business bundle page for more savings.)
Features
-The company promises to deliver reliably at the speeds it offers with each package. The internet does not come with caps on usage.
-The packages also come with phone services without too much in additional charges.
Ability to support business internet needs such as hosting servers.
Atlantic Broadband also comes with a security and spam filter, reliable customer support, and remote access capabilities.
The downside of Atlantic Broadband's services is that they are not as widely available as Comcast and AT&T are in the Miami area.
If you happen to have Atlantic Broadband in your Miami location, you will be lucky to have an affordable business Internet service, if that is what you are looking for. With its broad choice of features and high speeds, this service will do a superb job of keeping your business connected to the world.
The Best Option – Not An Easy One
There is no straight answer as to which provider towers above the rest as a supplier of business Internet services in Miami. For one, you might not have all three options.
On the other hand, if you do, speed, price, and other factors might lead you to pick a particular provider over all others. If you want affordable service, Atlantic Broadband is the best option, and AT&T is also worth considering in this regard.
But if you want the highest possible speeds, AT&T's fiber-optic, Comcast's Gig-speed, and Atlantic Broadband's GigFast option is what you need.
Finally, if you want as many package options as possible, Comcast has your needs covered.
Please keep in mind that these prices and promotions always change. Also, some of the buildings may require a specialized build-out to meet a particular plan's needs. It's best to call a company representative before you commit to an internet package.
I hope you enjoyed this article. Here at iFeeltech, our focus is on providing small businesses with flexible IT support to improve overall productivity while minimizing risks. If you have any IT-related questions or comments, please drop us a line or let us know in the comment section below.
What is your experience with your current Internet provider?
https://ifeeltech.com/wp-content/uploads/2016/03/comparison-of-Miamis-top-business-internet-provider.png
400
1000
Nandor Katai
https://ifeeltech.com/wp-content/uploads/2021/10/iFeeltech-IT-Services-SVG-Logo-Enfold.svg
Nandor Katai
2021-12-21 10:33:27
2021-12-21 10:40:08
Miami Business Internet Showdown 2022 – AT&T vs. Comcast vs. Atlantic Broadband